Google has kicked off holiday deals on the Play Store for Android users. As part of the year-end deals, the company is offering discounts of up to 95 percent on popular game titles, and a flat 75 percent discount on movie rentals. These are limited period year-end deals, so make sure to avail them as soon as you can.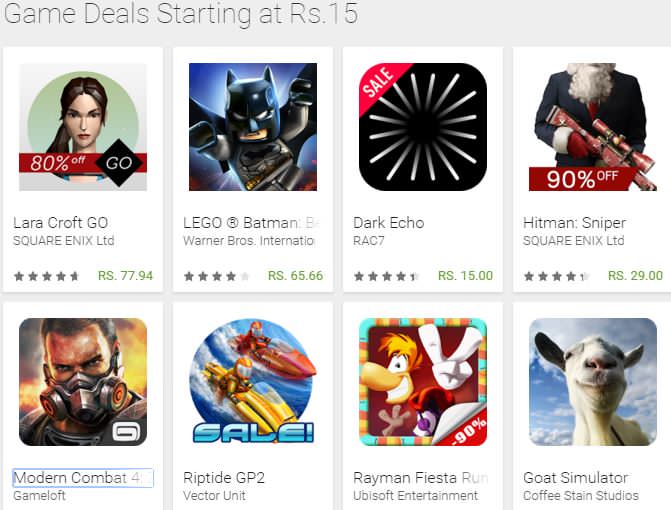 Talking about the games deals first, Minecraft Story Mode is available for just Rs 6.63, down from Rs 319.61, and the Minecraft Holiday Skin is available for Rs 33.14 (down from Rs 114.02) in Minecraft: Pocket Edition.
List of other year-end game deals:
Lara Croft Go with a discount of 80 percent for Rs 77.94
LEGO Batman: Beyond Gotham for Rs 65.66 (down from Rs 130)
Dark Echo for Rs 15 (down from Rs 60)
Hitman: Sniper for Rs 29 (down from Rs 300)
Leo's Fortune for Rs 65 (down from Rs 310)
Monument Valley for Rs 61.25 (down from Rs 250)
Modern Combat 4 for Rs 60 (down from Rs 350)
Riptide GP2 for Rs 15 (down from Rs 60)
Rayman Fiesta Run for Rs 16.99 (down from Rs 195)
Goat Simulator for Rs 25 (down from Rs 350)
Surgeon Simulator for Rs 39.45 (down from Rs 350)
Castle of Illusion for Rs 65.64 (down from Rs 650)
Framed for Rs 47 (down from Rs 155)
PAC-MAN CE DX for Rs 65.53 (down from Rs 350)
Joe Danger for Rs 49.28 (down from Rs 156)
Final Fantasy Tactics: WotL for Rs 390.59 (down from Rs 780)
Sleeping Prince: Royal Edition for Rs 64 (down from Rs 350)
Civilization Revolution 2 for Rs 332.37 (down from Rs 480)
Trivia Crack (Ad Free) for Rs 65.65 (down from Rs 180)
Final Fantasy III for Rs 445 (down from Rs 890)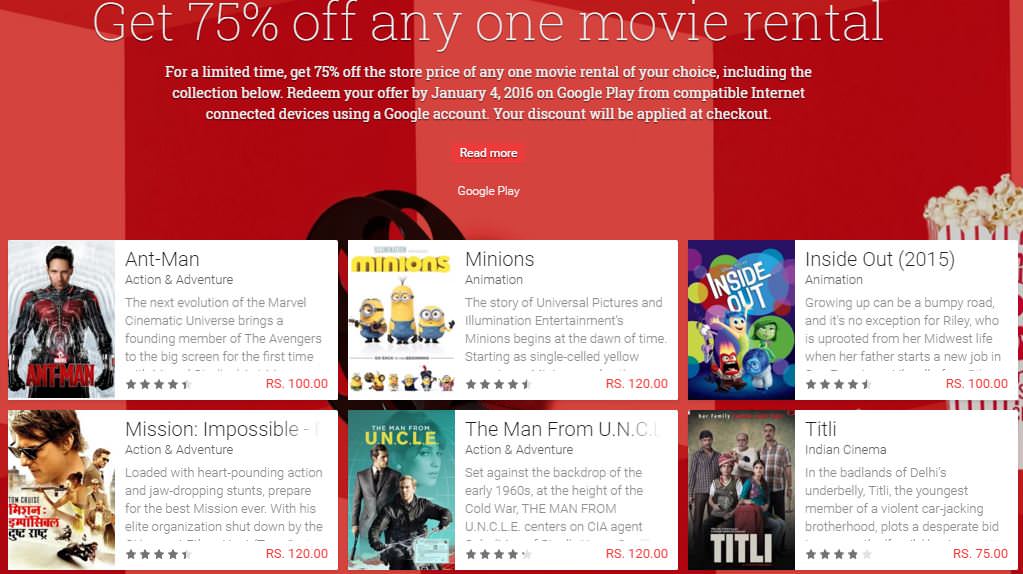 Movie rentals on the Play Store are available with discounts of 75 percent. Popular movie titles like Ant-Man, Minions, Inside Out, Mission: Impossible – Rogue Nation, Star Wars: Return of the Jedi, Frozen, Avengers: Age of Ultron, Titli, Bahubali: The Beginning and Queen are available with discounts under the offer till January 4th 2016.